Galveston Photographers | What is Beach Photography? 
The aim of beach photography is to capture the beauty and atmosphere of the beaches. Beach photos can include ocean views, sand, waves, seashells, rocks, and people enjoying the beach. There are a variety of cameras available for beach photography, including point-and-shoot cameras, smartphones, and DSLRs. Beach photography can be approached in many different ways. Some photographers prefer to capture the natural beauty of the landscape, while others prefer to capture the people enjoying the beach. Long exposures are popular among some photographers for capturing waves in motion, while fast shutter speeds are preferred for freezing the action.
Beach Photography tips to get you started
No matter how you approach beach photography, it can be a rewarding and entertaining experience. To help you get started, here are a few tips:
Make sure you pick the right time of day. Early in the morning or late in the afternoon, when the sun is lower in the sky, is the best time to take beach photos. By doing this, you will be able to create softer, more flattering light.
A tripod is a good idea. With a tripod, you can keep your camera steady, especially if you're using a slow shutter speed.
Play around with different angles. You can capture elements of the landscape you wouldn't see from eye level by changing your point of view. You can also add some visual interest to your photos by taking them from different angles.
Don't forget the details. From the patterns in the sand to the shapes of the waves, beaches are full of interesting details. Invest some time in capturing these details.
There's nothing like a beach to capture beautiful, timeless images of your loved ones. If you're not a skilled beach photographer, it can be tough to capture beach photos. Use these tips as a starting point and start snapping some pictures…. You'll be an expert in no time!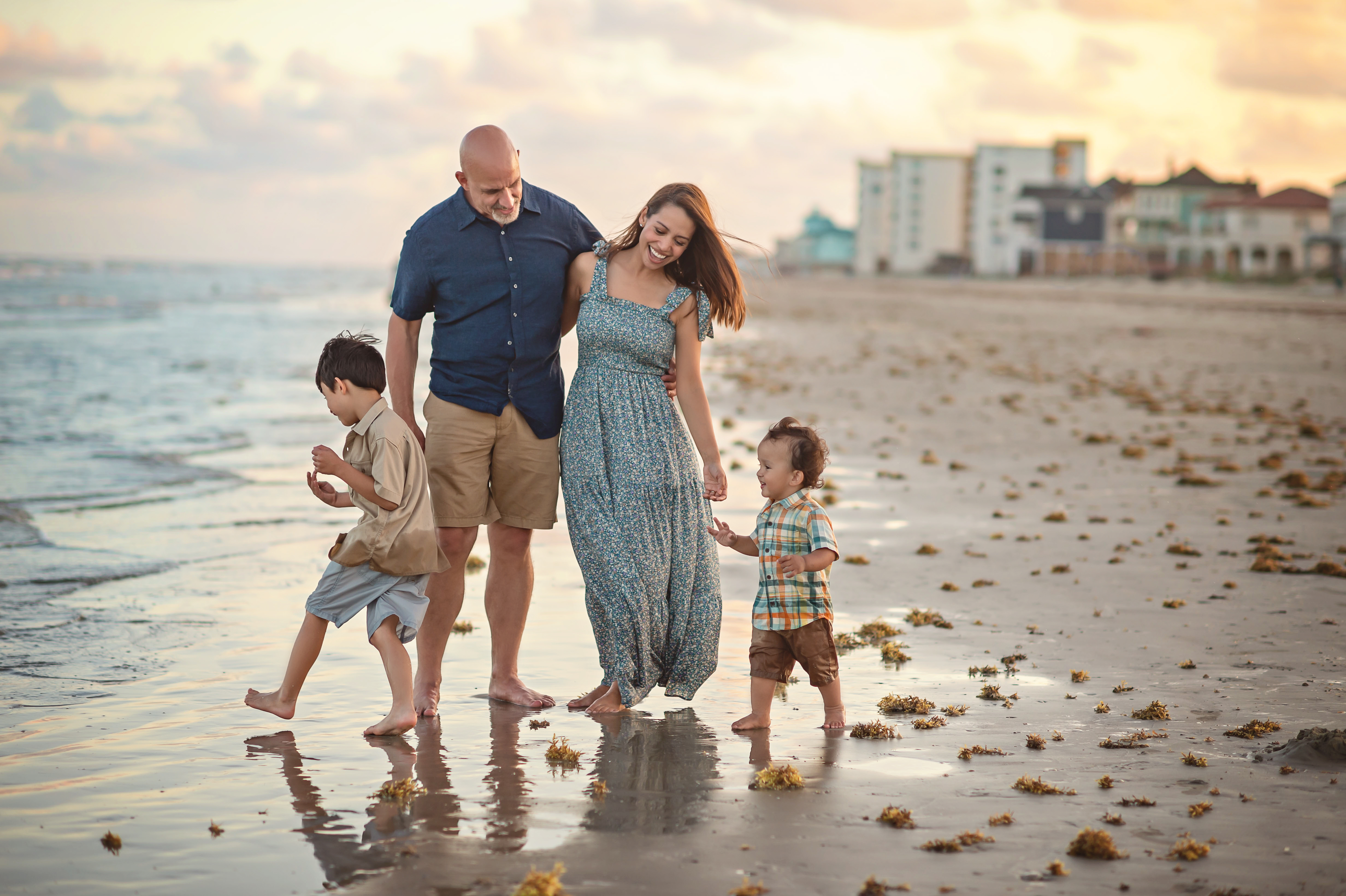 I have a sweet little spot on the beach I like to shoot at, trying my best to avoid overly crowded areas. I typically shoot within the last 20 minutes til sunset, so we can get that dramatic sunset. Its just gorgeous seeing the sky those beautiful colors and catching the last bit of the sun.
My
Galveston
Beach family sessions are $800 for 25 images and a 30 minute session. You get a proof gallery to chose your favorite 25 images, and there is always an option to purchase more if you like.
Click HERE for more information!
Best Photographers in Galveston, Texas!
Proudly finding you some of the best photographers serving Galveston, Texas and these beautiful communities; 103rd Street, 43rd St/Ave Q 1/2, 51-61 North Broadway, 8 Mile Rd, Alamo Park ,Avenue K, Bay Harbor, Bayou Shore Dr to Fraser Ave, Beachside Village, Beachtown Village, Bermuda Beach, Bluewater Addition, Broadwater, Central, Crystal Beach, Channelview, Denver Court, Downtown, East End Historic Dist, Galveston Island, Galveston West End, Havre Lafitte, Indian Beach, Isla Del Sol, Kahala Beach & Beach Estates, Kempner Park, Lasker Park, Lost Bayou & San Jac, Mid-Town, Near The Pier, Offatts Bayou, Old Silk Stocking Historic District, Ostermeyer Rd, Pirates Beach, Pirate's Beach West, Pointe West Galveston, Port Industrial Rd, Sea Isle, Seawall, Spanish Grant, Sunset Cove, Sydnor,, Bayou Estates, Teichman Point, Terramar, The Galvestonian, Treasure Island, University Area Association, Wegner Lane, West Beach Grand, Westwood, Williams Borden, 77551, 77552, 77553, 77554, 77555, Galveston County Texas.