What time of day should you take family photos in Galveston, Texas?
In Galveston, Texas, early mornings and late afternoons are best times for family photos. There are several reasons why you should take beach pictures in the early morning or late afternoon, and these reasons include:
In the morning and late afternoon, the light is softer and flattering. Due to the sun being lower in the sky, the light isn't as harsh and the shadows aren't as deep. It can make your photos look more natural and beautiful.
It's usually less crowded at sunrise and sunset. As a result, you'll have more room to move around and take photos.
It's usually cooler during these times and in the summer, this can be a welcome relief from the heat.
Sunrises and sunsets are gorgeous. If your shooting in the morning, hopefully you'll capture the sunrise in some family photos!
Also, late afternoons and early evenings are great for taking beach photos because the sky and water are usually more vibrant at these times. Because the sun is lower in the sky, more light is scattered, so it looks more colorful. The water is also usually calmer at this time of day, so it's more reflective.
Don't forget to check the tide times if you're taking pictures on the beach in Galveston. It's advisable to avoid taking photos during high tide, because the water will be too high and it may be difficult to get the right shot. You can visit usharbors.com/website and enter the name of the location you want to check tide times (https://www.usharbors.com/).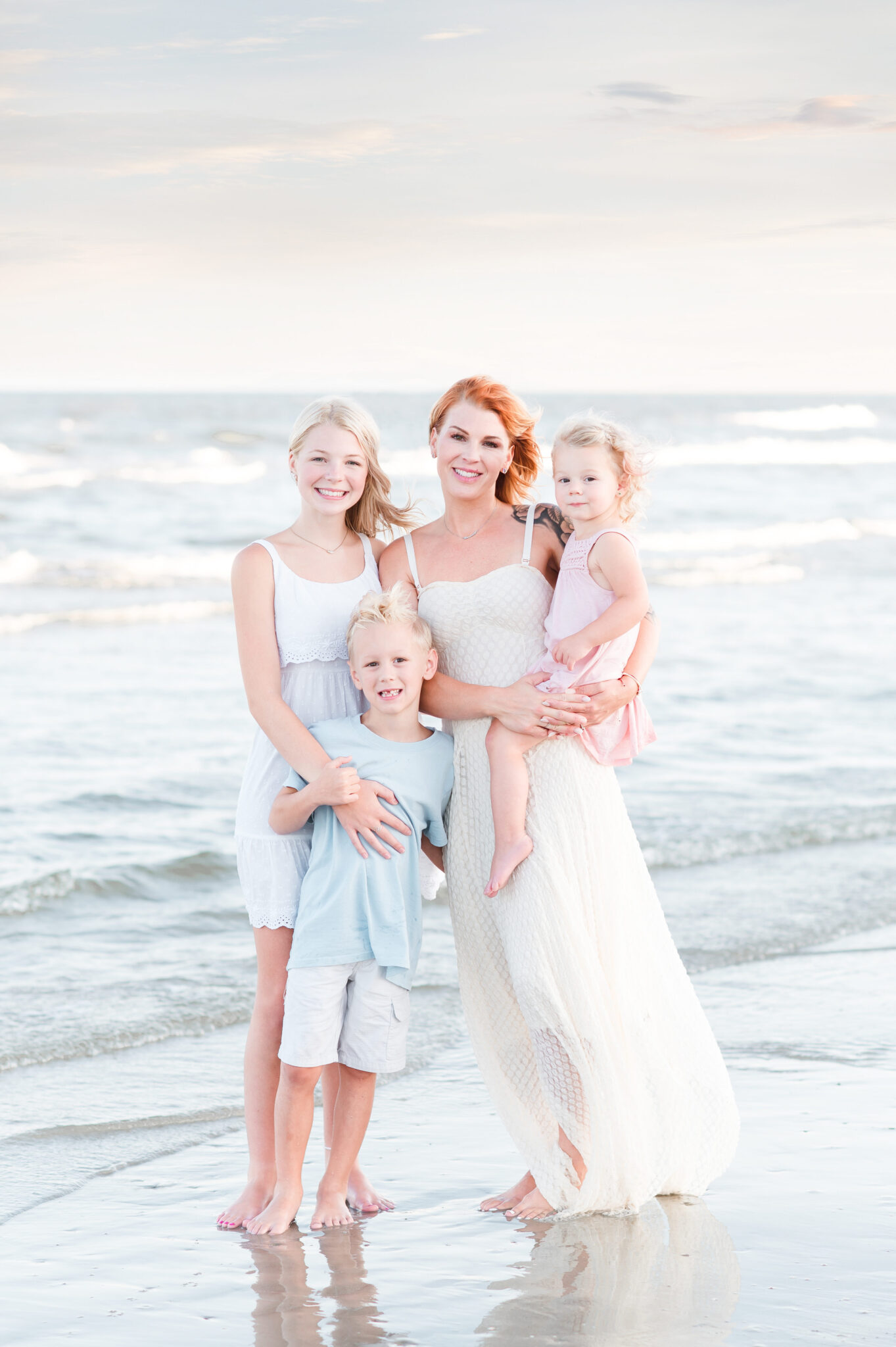 Galveston
Beach Photography
Sessions by Bri Sullivan. Our sessions takes place on the beach in Galveston,
Texas
! Our all-inclusive photography sessions come with 15 digital files! Book your session today!
Best Photographers in Galveston, Texas!
Proudly finding you some of the best photographers serving Galveston, Texas and these beautiful communities; 103rd Street, 43rd St/Ave Q 1/2, 51-61 North Broadway, 8 Mile Rd, Alamo Park ,Avenue K, Bay Harbor, Bayou Shore Dr to Fraser Ave, Beachside Village, Beachtown Village, Bermuda Beach, Bluewater Addition, Broadwater, Central, Crystal Beach, Channelview, Denver Court, Downtown, East End Historic Dist, Galveston Island, Galveston West End, Havre Lafitte, Indian Beach, Isla Del Sol, Kahala Beach & Beach Estates, Kempner Park, Lasker Park, Lost Bayou & San Jac, Mid-Town, Near The Pier, Offatts Bayou, Old Silk Stocking Historic District, Ostermeyer Rd, Pirates Beach, Pirate's Beach West, Pointe West Galveston, Port Industrial Rd, Sea Isle, Seawall, Spanish Grant, Sunset Cove, Sydnor,, Bayou Estates, Teichman Point, Terramar, The Galvestonian, Treasure Island, University Area Association, Wegner Lane, West Beach Grand, Westwood, Williams Borden, 77551, 77552, 77553, 77554, 77555, Galveston County Texas.